IGNITING YOUR SOUL: FEARLESSLY PURSUING YOUR DREAMS WITH POSITIVE MUSIC
Introduction
Pursuing our passions can result in being one of the best decisions we make, but often it brings about feelings of fear and apprehension. Many individuals experience the overwhelming fear of failure, the uncertainty of outcomes, concerns about others' opinions, and the fear of falling short of their own expectations. These common obstacles can hinder us from pursuing what truly sets our soul on fire. However, it is imperative to recognize that fear is an inherent part of the path towards our passions. It serves as a sign that we are stepping outside our comfort zone and taking risks. In this blog post, we will delve into the significance of fearlessness in following our dreams and explore the positive impact of music. Our focus will be on Bakes, an exceptionally ambitious hip-hop artist from San Diego, CA, and his soulful track titled "In Your Soul."
Listen to the Song "In Your Soul" by Bakes: 
CHOOSING FEARLESSNESS: CONQUERING INHIBITIONS
Choosing fearlessness entails making a conscious decision to pursue our deepest passions despite our deepest fears. It involves acknowledging our fears without allowing them to dictate our actions. Instead, we shift our focus towards the exhilarating thrill and fulfilling sense of purpose that accompanies the pursuit of our dreams, diverting our attention from fear.
To embody fearlessness, we must be prepared to face failures and setbacks along the way. Obstacles are inevitable companions in any pursuit, but they also present opportunities for growth and learning. By embracing our failures and using them as stepping stones towards progress, we cultivate strength and resilience. Overcoming these obstacles becomes an integral part of pursuing our dreams, and the key lies in releasing fear and embracing the unwavering belief in our ability to achieve success.
EMBRACING VULNERABILITY: FEARLESSNESS IN THE FACE OF UNCERTAINTY
Another crucial aspect of fearlessness is embracing vulnerability. It entails opening ourselves up to new experiences, challenges, and calculated risks to foster personal growth and learning. Embracing vulnerability involves being comfortable with not having all the answers, relinquishing the need for certainty, and trusting the process.
Vulnerability may seem intimidating as it exposes us to potential criticism and rejection. Nevertheless, it serves as an indispensable catalyst for gaining confidence, resilience, and proficiency. By taking risks and welcoming uncertainty, we unlock our true potential and expand the boundaries of what we once believed achievable.
FINDING PURPOSE AND MEANING: NURTURING YOUR SOUL'S PASSION
Pursuing what sets our soul on fire instills a profound sense of purpose and meaning in our lives. It enables us to tap into our unique talents and contribute something extraordinary to the world. When we wholeheartedly engage in activities aligned with our deepest desires, we experience heightened fulfillment and satisfaction. Unearthing our passion and purpose requires time, intention, patience, and unwavering persistence. By remaining steadfast in our authenticity and persevering through challenges, we can create a life that is genuinely fulfilling and meaningful. Bakes, the eclectic hip-hop artist from San Diego, CA, encapsulates this pursuit of purpose in his empowering song, "In Your Soul," where he encourages listeners to follow their hearts and live a life true to themselves. His lyrics reinforce the notion that "If you feel it in your soul, you should never let it go.
Bakes (Photo by Defalt Ic - San Diego, CA):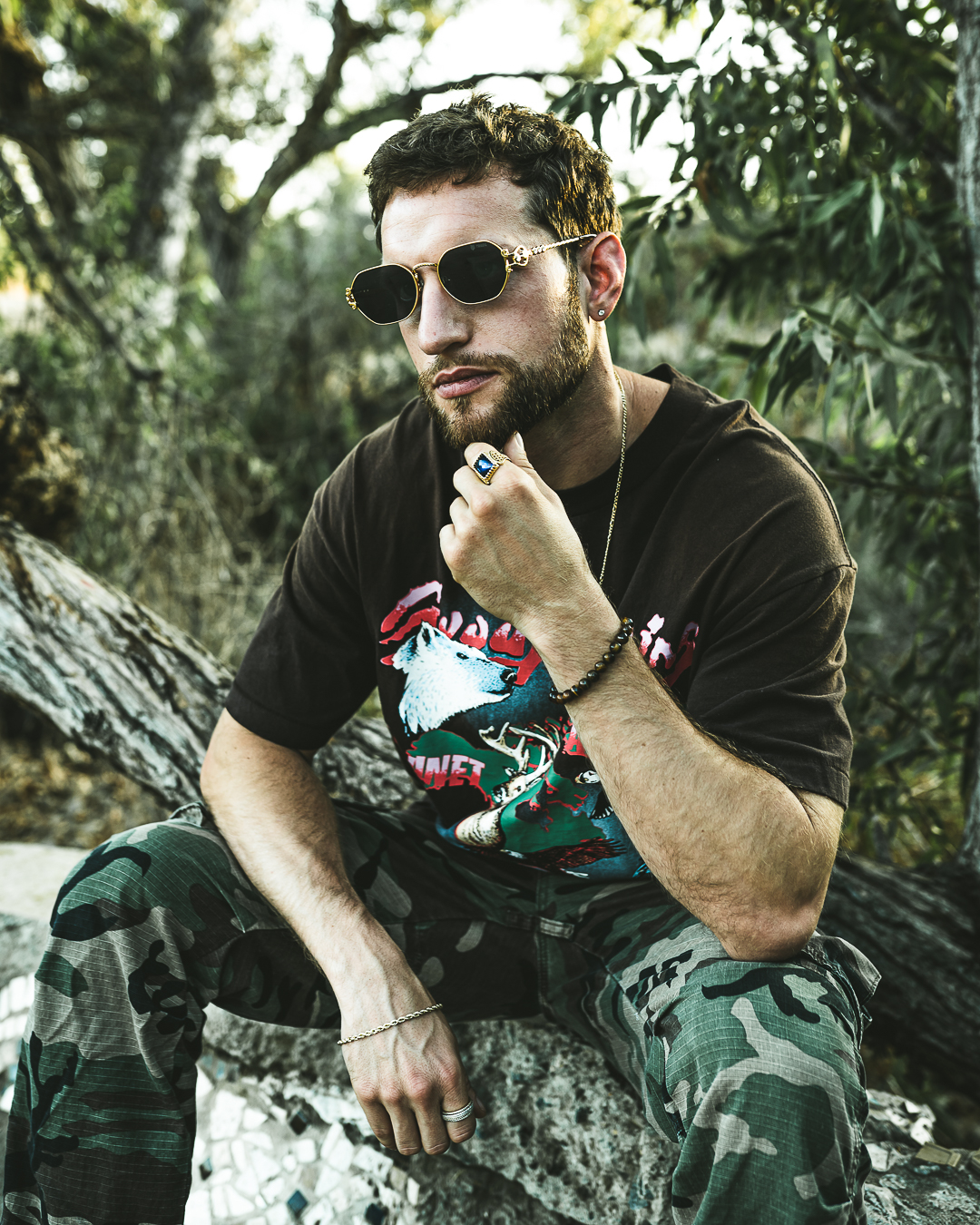 TIPS FOR MUSICIANS TO EMBRACE FEARLESSNESS AND OPTIMIZE THEIR JOURNEY
Set Clear Goals
Define your musical aspirations and set specific, achievable goals to work towards.
Build a Support Network
Surround yourself with like-minded individuals who encourage and motivate you on your musical journey.
Practice Self-Compassion
Be kind to yourself and acknowledge that setbacks are a natural part of growth.
Continuous Learning
Never stop learning and refining your musical skills. Attend workshops, take online courses, and seek feedback from mentors.
Promote Your Music
Leverage social media and other online platforms to showcase your music and reach a wider audience.
Perform Live
Embrace opportunities to perform in front of an audience to gain confidence and connect with fans.
Collaborate with Others
Collaborations can spark creativity and open doors to new possibilities.
Stay True to Yourself
Don't compromise your artistic vision for commercial success. Authenticity resonates with listeners.
Stay Positive
Cultivate a positive mindset, and use positive affirmations to overcome self-doubt.
Celebrate Milestones
Acknowledge your achievements, no matter how small, and celebrate the progress you make.
EMBRACE FEARLESSNESS, IGNITE YOUR SOUL: LIVING A LIFE OF PURPOSE
In conclusion, choosing fearlessness as we pursue our passions may seem daunting, but it is essential for personal growth and the achievement of our goals. By acknowledging our fears, embracing vulnerability, and immersing ourselves in positive music, we take that pivotal first step towards living a life aligned with our true selves. Following what ignites us on a soul level brings a profound sense of purpose and meaning, allowing us to make a positive impact on the world around us. Therefore, if you find yourself consumed by fear or anxiety about chasing your dreams, remember that fear is a natural and inevitable part of the journey. However, by consciously choosing fearlessness and embracing vulnerability, you can embark on a path that is genuinely fulfilling and meaningful. Breathe life into your dreams, transform your imagination into reality, and let your soul radiate with passion. With Bakes' empowering words resonating within you, trust in the power of following your heart and fearlessly pursuing your dreams.
Listen to the Song "In Your Soul" by Bakes on Spotify, Apple Music, YouTube.